In this Post:
Pit Design and Ideas
Pitfalls of the Pit
Everything you need to know about this year's Georgia FIRST Tech Challenge State Championship is at this link.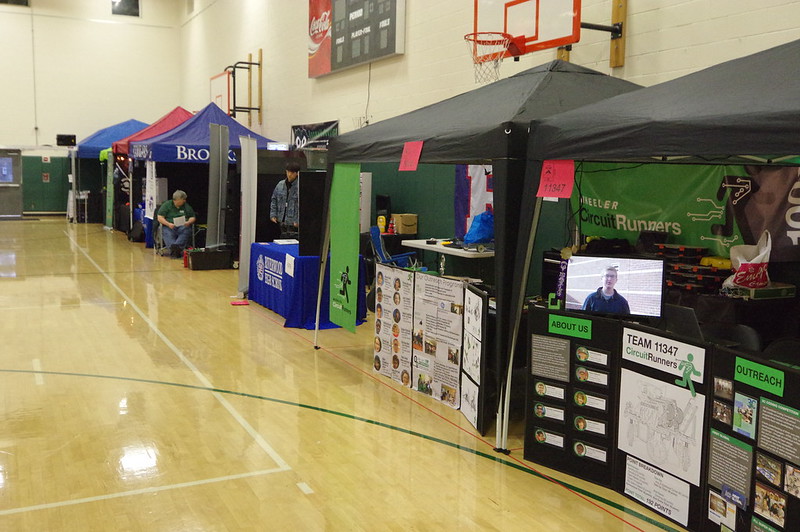 Pit Design and Ideas
Besides serving as the robot maintenance and programming station, the team pit is an important part of showcasing your team's spirit and for highlighting reasons why the judges should be considering your team for awards.
You can look at pits from last year's state championship in the photo gallery at this link. As long as they are organized, more is more! Visiting the pits at the State Tournament should be a highlight for all attendees.
This year the pits are 9 foot by 9 foot, with a maximum 10 foot height. A single 4 foot x 30″ table and a 110V power hookup (max 5A) are provided. Many teams use a 9×9 folding tent frame (with or without the cover) or PVC frame to hang team banners, props, and informational material. Other common pit ideas include:
A tri-fold or trade show presentation board with team member information and content that directly addresses award criteria (unique robot design concepts, programming techniques, and team outreach activities). Your team should also take space to acknowledge their sponsors. This can be prepared in advance to make setup quick and easy.
A laptop or monitor streaming videos including outreach presentations, robot performance, and CAD visualizations.
Prototype robot components. My favorite part of touring the pits is seeing what was tried and failed, or what intermediate steps were taken to get to a competition-ready robot.
Swag. stickers, buttons, and other widgets printed with team logos.
An extra copy of your notebook. The judges will keep your notebook throughout the competition, so you might want to have a second copy to show off in the pit.
Do a mock-up of your pit advance so there are no surprises on event day!
Pitfalls of the Pit
Teams should also be aware of doing things in the pits that can negatively impact their robot performance and awards chances. First and most importantly, all team members in the pit should be wearing approved safety glasses and closed-toe shoes at all times! Students who do not need to be in the pit should go to the stands to watch and scout matches. Many other unsafe and impermissible practices in the pit are listed in the Game Manual Part 1 and the Georgia FTC Safety Manual.
Here are some other things to avoid in the pit:
Failing to have students in the pit.
The judges will visit team pits to ask in-depth questions about topics that were brought up in your team presentation. If no team members are present, your team may be overlooked for an award. During lunch or other brief periods of absence, put up a note that informs the judges when your team will return. If the team members present in the pit cannot address the judge's questions, this also may affect whether your team wins an award. Consider having your team create a schedule for student shifts in the pit.
A disorganized pit.
This can compromise safety and make it difficult to perform robot maintenance in the short time between matches.
Extra robots.
Having more than one fully assembled robot at a tournament is a violation of FTC rules (T7, Game Manual Part 1).
Team fund-raisers.
Find raising through any means is not allowed at FTC tournaments (T26, Game Manual Part 1).